---
SOVIET SANDBOX: KABUL 1984

Avtomat Kalashnikova skladnoy ukorochenniy obrazetsa 1974g
---
-KALASHNIKOV PROJECTS PAGE 22-
A Professional Replica Grabs Our Undivided Attention!
The Afghan War (1979-1989) has always been of major interest to students of Soviet firearms development. None are more intrigued by the conflict than Kalashnikov enthusiasts, and for good reason. Basically, it hosted the fielding and development of a number of new and innovative small arms designs, some of which were unknown until seen in the hands of Russian troops fighting in the "sandbox" of the Afghan deserts. Our subject here is the unique and slightly infamous AKSU, nicknamed the "Krinkov" by the Afghan rebels known as the Mujahideen. Some examples of this weapon were captured and used against their former owners, which provided an opportunity for foreign journalists to eventually photograph them. Thus started the beginning of a legend and the generally common use of an iconic nickname which was actually never really officially used by the original makers.
Although we have a special interest in the firearms used in this bitterly fought war, we cannot forget the countless lives that were lost and the sacrifices made by the soldiers as well as the families that left loved ones on the battlefield. No matter the political view or nationality of the reader, we hope you will keep in mind we in no way celebrate the act of war but only wish to honor those that fought and lost their lives in Afghanistan.
IMAGE CREDITS: SturmGrenadier
E-MAIL: Sturm_Grenadier@hotmail.com
BUILDER: Marshall Arms
TEXT & LAYOUT: Tantal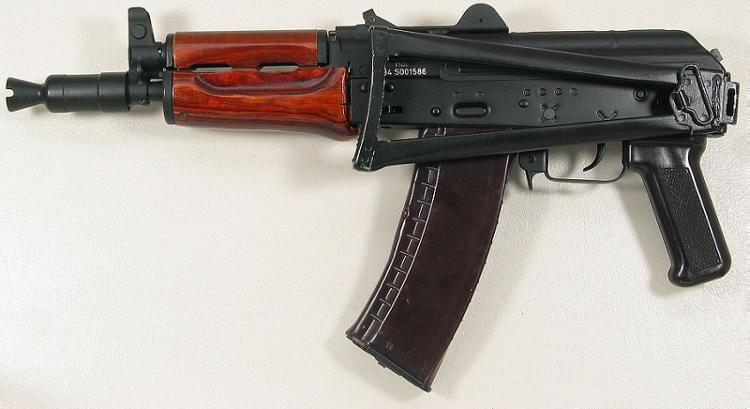 THE AKS-74U IN QUESTION
We have displayed several factory built military AKSU's (as well as some very authentic looking replicas) on these "Projects and Exhibits" pages before, and although we do not wish to duplicate our efforts, we feel this particular example deserves your undivided attention. Although SturmGrenadier has been gathering the correct parts and finishing the finer points of this accurately detailed project rifle for quite some time, his decision to enlist the help of Marshall Arms was no doubt the single most important action he could have taken. The results have definitely made all of his efforts well worth it. Needless to say, we are also very proud to have this opportunity to show off the faultless assembly work of master gunsmith Ted Marshall. We compliment both men on their workmanship, and for allowing our visitors a glimpse of what can be done with the right combination of a well defined vision, the right parts, and the right craftsman to put it all together. We are very happy to share these images as we know how they may help or motivate fellow enthusiasts. --Tantal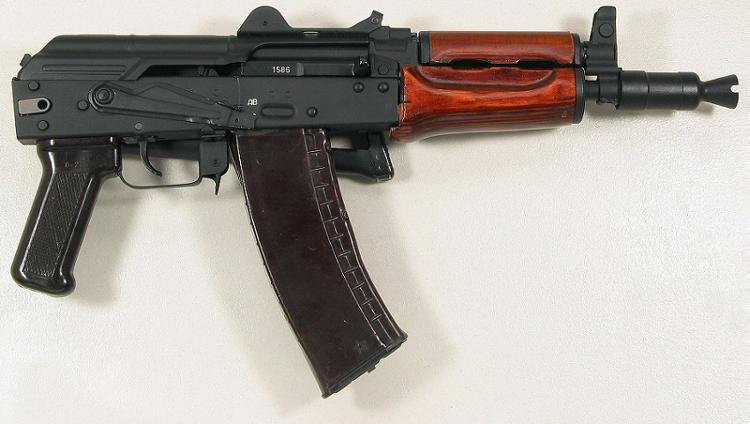 BACK TO THE BASICS
SturmGrenadier relates this brief history of the firearm to us: "I bought a complete Bulgarian 7.62 AKSU parts kit from KVAR in 12/2000 when they were still $700. I bought the "Red Dawn" Steyr Maadi from Dan Shea of Long Mountain Outfitters on 01/03/2001 for $750. I received a Form 1 from BATF in June of 2001 after approval on May 29, 2001. After an extensive ordeal that lasted over 2 years which ruined the 7.62 barrel, the decision was made to go for authenticity with the 5.45 after talking with Ted Marshall of Marshall Arms who would now be the one to finish the build."
"My first introduction to the AKR was seeing a picture in the SOF's premier issue of COMBAT WEAPONS SPRING/'85 magazine while I was in the 7th grade. I made a promise to myself I would own one some day if I could because I thought that was the coolest looking AK I had ever seen." --SturmGrenadier

Copyrighted materials 1984 by Omega Group Limited, shown for educational/review purposes only
THE RUSSIAN "AKR"
SOLDIER OF FORTUNE magazine was indeed an excellent resource for information on the weapons that were being introduced by the Soviet Union in the Afghan conflict, partly because it was virtually the only source at the time. Few people in the West had even heard of an AK-74 at that time, much less seen detailed color images of an AKSU such as those printed in an exclusive article in the July 1984 issue. The article, entitled "AKR: SOF Scoops CIA, Field-Tests Mysterious Krinkov" was written by David Isby, a well known defense analyst and author. It was probably the first publicly available account we have of this weapon. The article included some very clear, full color images that are still quite valuable to the small arms student or project builder. "AKR" was an early acronym attached to the design.

ARMY DOCUMENTATION
AVTOMATS-IN-ACTION has discussed the early history of this small arm before, and although there are many historical gaps to fill in (no doubt more info will be discovered by enthusiastic researchers as time goes on), we can basically state without too much controversy that the AKS-74U was officially adopted by the Soviet Army in 1979. The weapon filled the need for a compact and hard hitting carbine issued for use by special operators, armor and helicopter crews. The first known military operators manual for the AKS-74U, printed for issue with Tula-made rifles, is dated 1981. A 1986 reprint also includes line drawings of the rifle with polyamide magazines which had been in use for only a few years. The 1981 armorers manual for the Kalashnikov rifles does not include the AKS-74U, but by 1986 they have included it with the other models.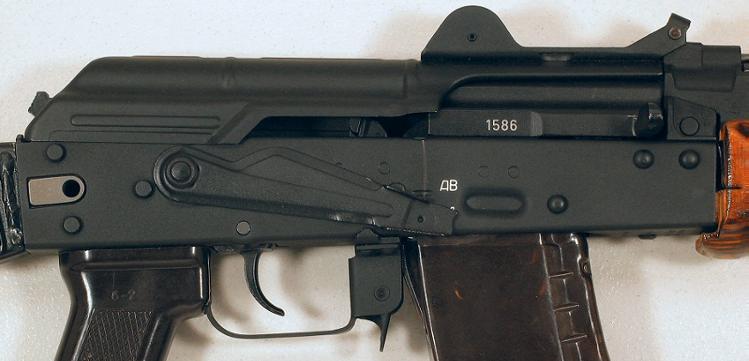 SOVIET SANDBOX: EARLY FIELD TESTS
Earlier versions were being built and field tested by Russia in Afghanistan, well before the final series produced pattern was finallized and primary production was moved to Tula. The few known pre-79 examples feature Izhevsk arsenal codes and were probably developed specifically for SPETsNAZ units since they are equipped with optical mounting bases (for use with NSPU-series night vision scopes) and early patterns of 5,45mm "silent fire devices" (PBS- series silencers). Both of these equipment devices (NVD and PBS) were almost never issued to anyone else, being quite expensive and rare at the time. This is one reason they were so heavily prized as war trophies by the enemy.
Besides optical mounting bases, these early AKSU's (more specifically, AKS-74UN's) also displayed many other non-series features such as bayonet lugs, old style AKM rivet pattern rear trunnions (pre-'78) with the associated non-rolled strut "straight angle hinge" folding stocks, and prototypical leaf-type rear sights. Each example seems hand built and differs from another in various ways. We are quite lucky that some extremely early examples survive today for study at military museums in St. Petersburg and at the Izhmash JSC.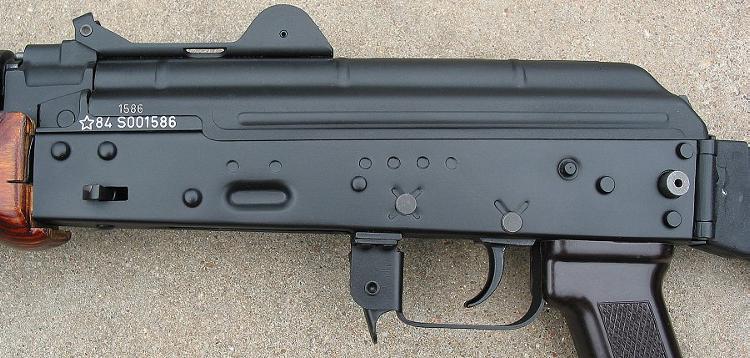 THE WAR TROPHY
The SOF-featured rifle, with trunnion markings indicating an "82" build year Tula model, was probably less than two years old when it appeared in the magazine and was essentially in near new condition, much like the one pictured here. Of course, it exhibited some battlefield wear since it was a captured weapon in service at the time. It has all the regular production features we commonly associate with the AKSU weapon type. This includes the correct rolled strut stock and the advanced (middle production) AK-74 rear trunnion, the absence of any bayonet lug on the gas block, and the typical two-position flip-type rear sight enclosed in a sheet metal protective housing. It still used laminated wood handguards with cooling vents on each side cut above the finger grooves, and a glossy finished dark plum polyamide pistol grip. The grip is of the Tula pattern and has a mold number of the "x-x" format. Somewhere between 1985-87, the handguards lost the cooling slots.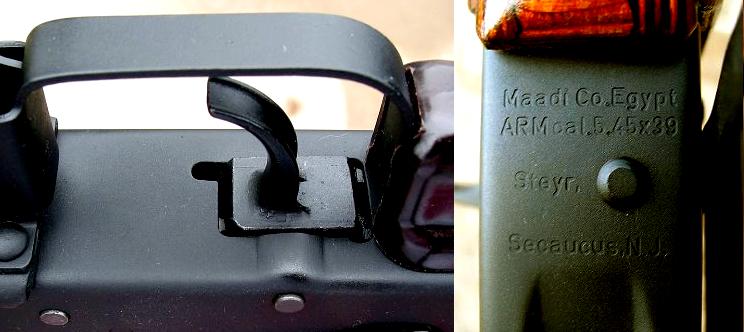 MASSAGING THE SHEET METAL
In the next few images, we wish to bring to your attention the various important but not-so-obvious details of authenticity which had to be painstakingly added by the gunsmith. Since this receiver was originally an Egyptian made Maadi ARM in caliber 7,62x39mm, you can imagine the work that was involved. We can only provide you with a short highlight list here, which includes various receiver markings (maker, calibre, importer, selector, trunnion, and proofs), a Soviet-type final black finish, the indentation around the left side selector lever shaft hole, the "Star" factory code of the Tula Arsenal, and the proper installation of the correct Russian 5,45x39mm barrel assembly. Also note the professional installation of the front barrel trunnion and rear folding stock trunnion (with perfectly formed rivet heads) and the forward hook "latch" assembly which holds the folded stock in place. This type of heavy modification to an expensive and rare pre-ban rifle is best left up to a professional such as Ted Marshall. To be honest, he probably makes these look too perfect to pass off as factory rifles.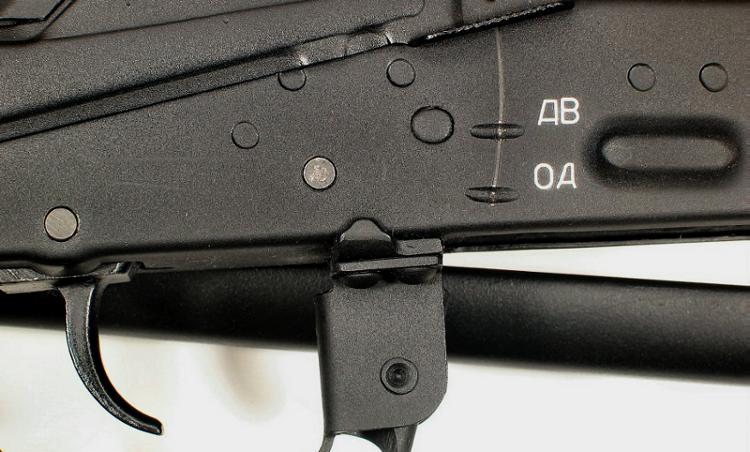 A close-up view of the right side receiver section clearly shows high quality workmanship as unique features had to be carefully stamped or riveted into the sheet metal in order to meet the cosmetic requirements of the replica project. This included the Cyrillic selector markings, the "crowned" Tula-style selector stop plate extension, and the trigger "bump" or rib. This rib had to be pressed into the Maadi receiver, and is clearly seen here on the bottom of the rifle above the trigger. This rib was only used on the right hand side of the earlier AK-74 and AKSU receiver, but later became a full length rib that ran all the way across the receiver from side to side. The newly created bump appears to be factory perfect.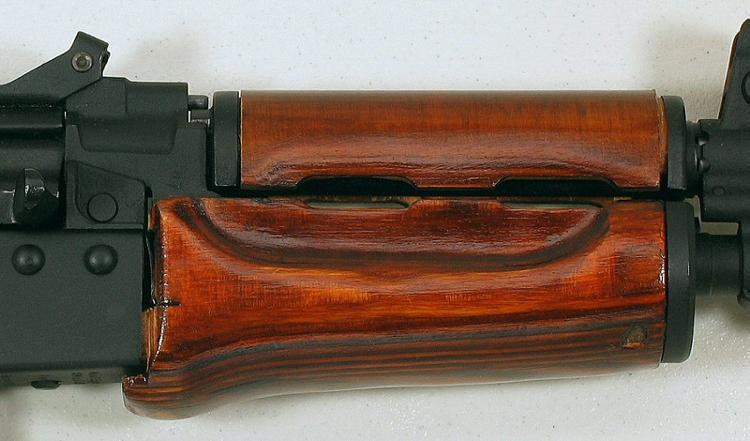 FROM TULA WITH LOVE
The rifle in the images is based on detailed analysis of 1984 production models. This pattern would be correct for a mid-war example and is a standard production model. As you can see here, it features a set of beautiful and original early type vented handguards, which are quite rare especially in such nice condition. For comparison of these and other components to the real thing, we invite you to view detailed images of true military 1984 vintage AKSU's on PAGE 18 of the exhibits section. It is quite apparent that the semi-automatic version seen here is a very accurate copy and any serious collector would be very satisfied with the final results Marshall Arms has created.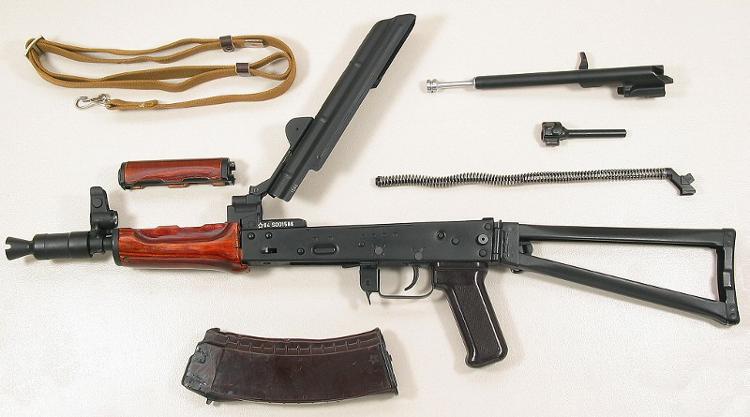 A VERY UNIQUE KALASHNIKOV
This image shows the AKS-74U field stripped, with bolt and bolt carrier removed. The design is of the conventional and highly reliable gas operated, air cooled, box magazine fed system familiar to all Kalashnikov users. Of course, the use of the short barrel combined with a rifle cartridge has made it necessary to make some modifications. Although the basic overall design is patterned from the AKS-74 rifle, most of the components (except for the receiver, bolt and most of the fire control parts) are uniquely modified and not interchangeable. One interesting change is the non-removable receiver cover, which is permanently attached via a forward mounted hinge pin. Note the unique narrow pattern sling design with sewn-in captive D-ring, double leather loops, and square-shaped metal end cap. The "plum" colored injection-molded, thermo-bonded plastic (polyamide) magazine was also made at Tula and holds 30 rounds. These magazines eventually began to replace the orange colored AG-4S Bakelite magazines in the early 1980's, although it is still quite common to find both types in service (along with newer black "thermoplastic" mags) among front-line troops in Chechnya.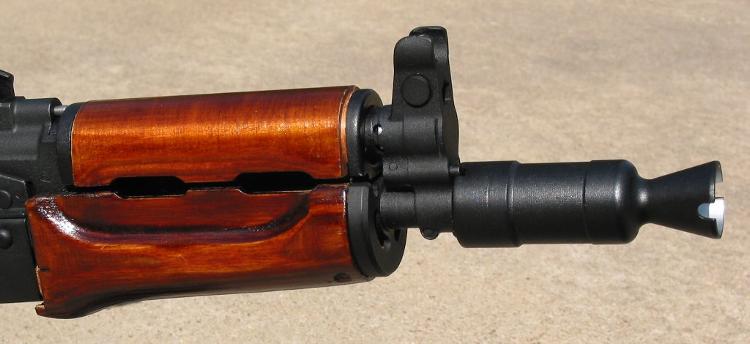 SHORT BARREL ASSEMBLY
The 210mm barrel assembly features a shortened gas tube, large rounded handguard retainer with forward cooling slots and reverse-throw locking lever, a special gas block/front sight base combination with offset muzzle device detent, and special muzzle booster/hider that acts to increase reliability (the expansion chamber helps burn residual powder and increases the gas impulse seen by the gas system, especially in the full automatic mode of fire). This muzzle device is fully hard chromed inside for easy cleaning and corrosion control, and has a forward notch in the hider cone for easier removal using a cleaning rod. The muzzle device also offers a means of reducing the flash signature, which is very important since many small arms using rifle caliber ammunition in combination with a short barrel do not allow time for the powder charge to burn up completely. Once the unburnt powder hits open air, it explodes in a fireball that is loud, creates excessive recoil, and is very visible to observers. This can obviously cause several problems for the end user. Even though the official Soviet nomenclature for the weapon classifies it as a "sub-machinegun" the correct technical Western terminology categorizes it as a short-barrel rifle or carbine, due to it's use of rifle-sized ammunition.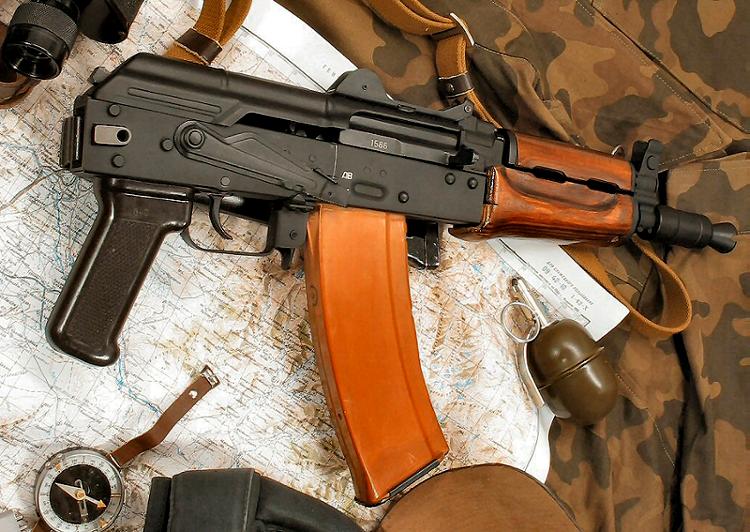 A MOST NOTABLE COLLECTION
This is probably the best image of the page. When assembling an exhibit, many serious collectors decide at some point to finish off their historical recreations with a proper collection of accessories, documents, and other related memorabilia that were period-correct at the time the firearm was in use. This can be almost as hard as recreating the firearm itself. At first this includes magazine pouches, slings, and other field gear items. SturmGrenadier has went several steps further, and has included the correct Soviet mechanized armor crew headgear, field binoculars, tactical maps of Afghanistan, dummy grenades, compass, flares, and other hard to find items. This is no doubt the most complete display I have witnessed to date, and will no doubt encourage others to learn more about the history of the Soviet Army in the Afghan War.