---
AK-101, Izhevsk Arsenal (Saiga-based Replica)
East Meets West: The 5,56mm Kalashnikov
---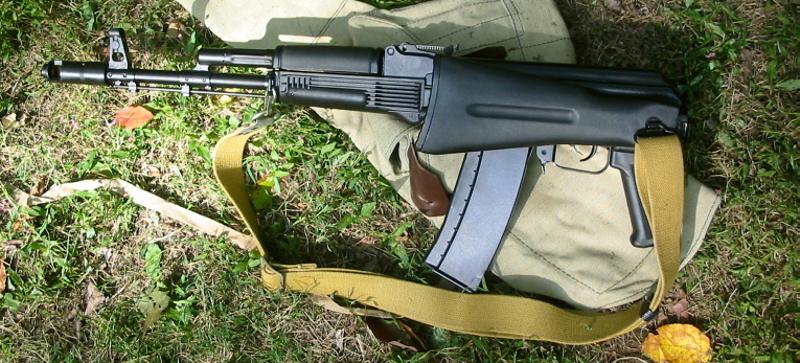 AK Projects & Exhibits Page 23
I am quite pleased to show off these images of Aardvarks' AK-101 project rifle, built by Marshall Arms. You may have noticed several builds credited to Ted Marshall on these web pages, and there is a good reason for that. It's not because we work for (or get paid by) Marshall Arms, but because he tends to be in the middle of some of the best projects very informed collectors indulge in. We always try to represent works that have to make no excuses when it comes to authenticity, and this is one of those ocassions. There are several very good builders out there these days, but when you send parts to Ted you don't have to worry about what kind of results you will see when they come back.
This semi-automatic representation is patterned from the AK-101, a "Century Series" selective-fire rifle designed and manufactured at Izhmash, JSC in Izhevsk, Russia. The AK-101 is basically a 5,56mm version of the Russian Army front-line individual infantry rifle, Kalashnikov AK-74M, and uses most of the same parts as it's 5,45mm older brother. Developed in the early 1990's, and mainly marketed for exportation abroad, the AK-101 delivers fabled Kalashnikov reliability mated with the accuracy potential of the 5,56mm round. --Tantal
CLICK HERE FOR MORE AK-100 PARTS REFERENCE
PROJECT OWNER: Aardvark
BUILDER:
Marshall Arms
IMAGE CREDITS: Owner
TEXT & EDITING:
Tantal
AK-101 PROJECT BASED ON THE SAIGA .223 RIFLE
"Ted pressed in the dimples, came out pretty nice. This project was started over two years ago, so the Bulgarian receivers weren't yet an option. No regrets though, especially with all the Russian details the Saiga came with. Thanks again for the lead on the front sight base way back in the beginning." --Aardvark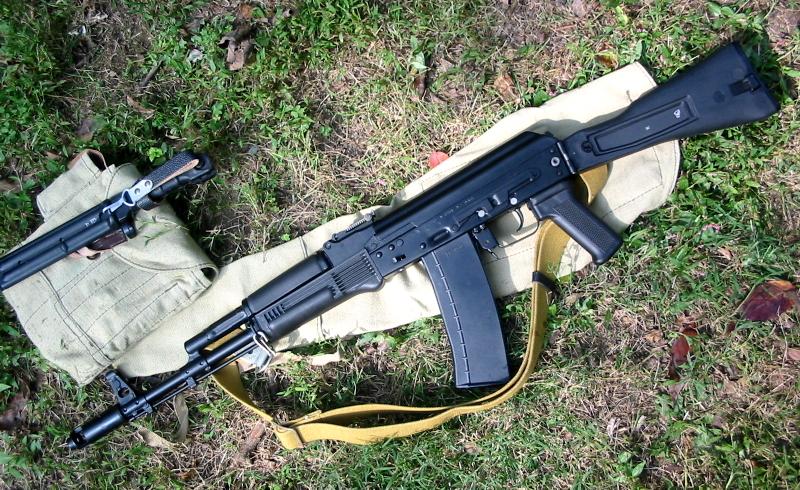 The plastic folding stock is common to all AK-74M and AK-100 series rifles. It reduces the overall length of the weapon to 700mm, and provides more support to the cheek. It also has internal storage for a cleaning kit and is more comfortable in harsh winter weather where the older metal folding stock would often stick to the skin. a Stock is outfitted with rear facing push button for manual unlocking release.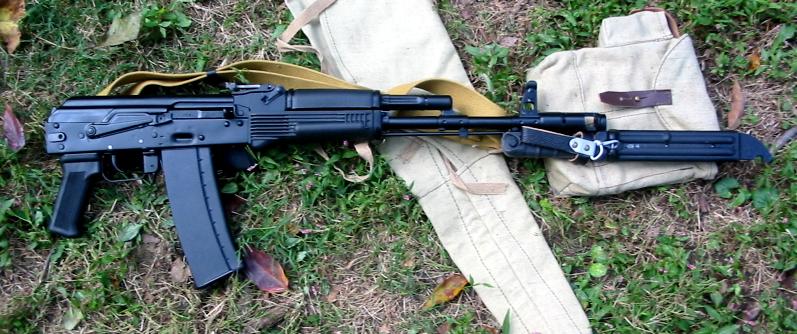 Left side of receiver shows the latest incarnation of the Russian universal accessory rail, otherwise known as the optics rail or dovetail mounting base. This rail will allow mounting of many Russian military based optical devices, but was originally developed for use with night vision devices such as the currently issued 1PN51 and 1PN58.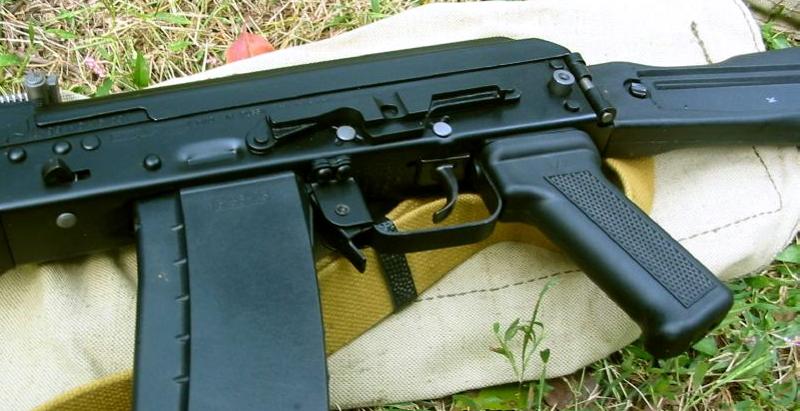 This is a good view of the later style Kalashnikov sight leaf assembly, identified by the hash mark index lines. Note the late spear point bayonet in true black plastic, a hard to find accessory on the open market.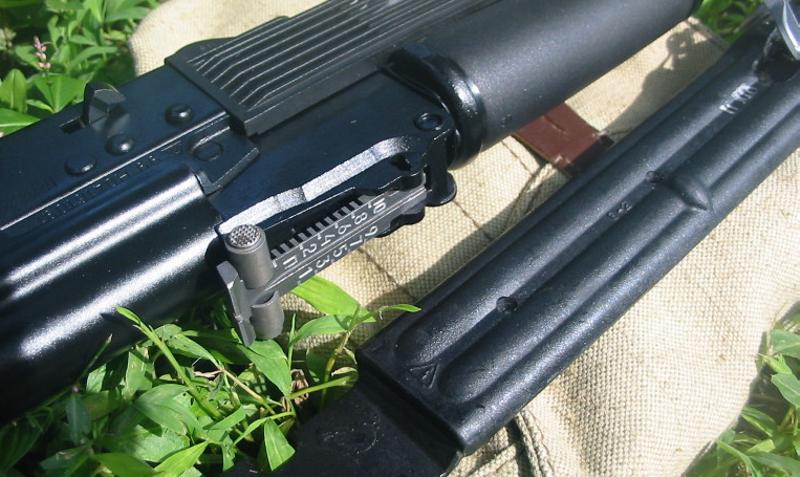 The right side shows to great detail the magazine well dimples that were added to the receiver by Marshall Arms. Very few Saiga rifles came with these, which are generally considered a military-only feature. Pressing these into receivers already completed, with satisfactory and cosmetically accurate results, is an elaborate chore to say the least. My hat is off to those few who can do this properly.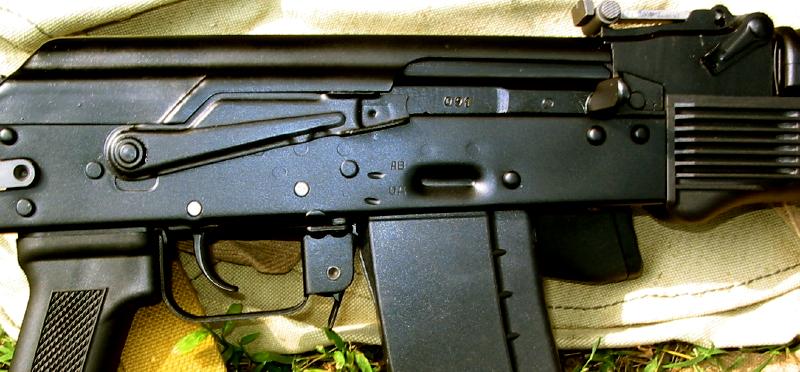 The 1P29 "Tyul'pan" combat sight, with installed interchangeable ballistic cam calibrated for use with AK-74, has been rare to find in the last few years and even rarer to see in combat photograghs. Their expense has always made them scarce in Russian service, although they are issued to more exclusive special forces units in the army. I am told they are always stored away in lock boxes when not used on training exercises or maneuvers. This excellent example is a late model with the Novosibirsk Optical Making Factory "triangle-in-triangle" marking. It is finished in the traditional hammer gray paint, with 1P29 model code marks, both of which indicate it was made for military issue.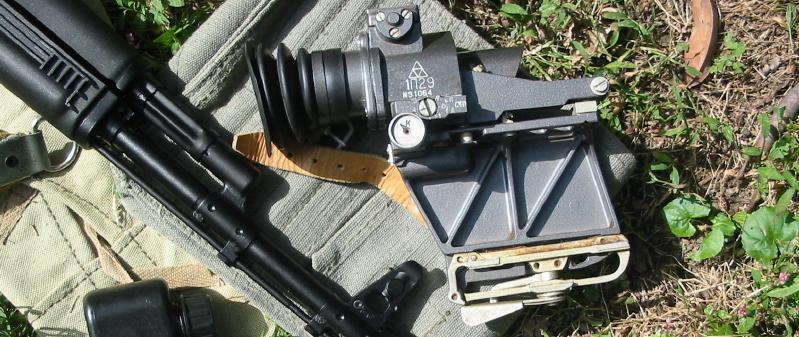 The barrel assembly is conventionally pinned, but counterfeit "punch welds" were added to replicate the later assembly technique characteristic of Russian military manufacture. This method replaced the old "press, drill and pin" assembly of earlier rifles, and continues today on rifles made for domestic military use. It appears that most "export only" and/or semi-auto rifles made at Izhmash still retain the more conventional pinned design. The muzzle brake is the late style with the longer threaded collar.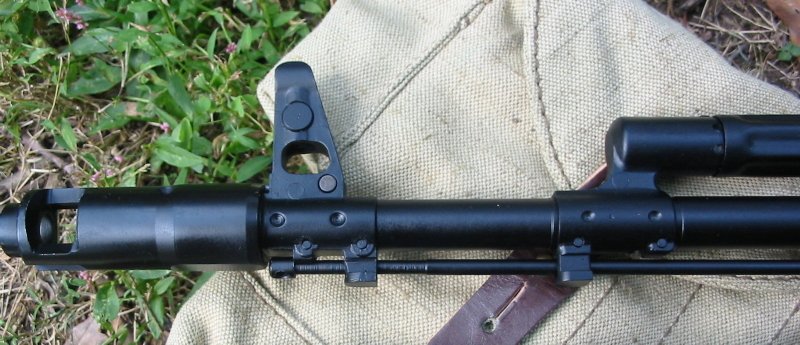 This is the right side barrel assembly detail, with bayonet and sling attached.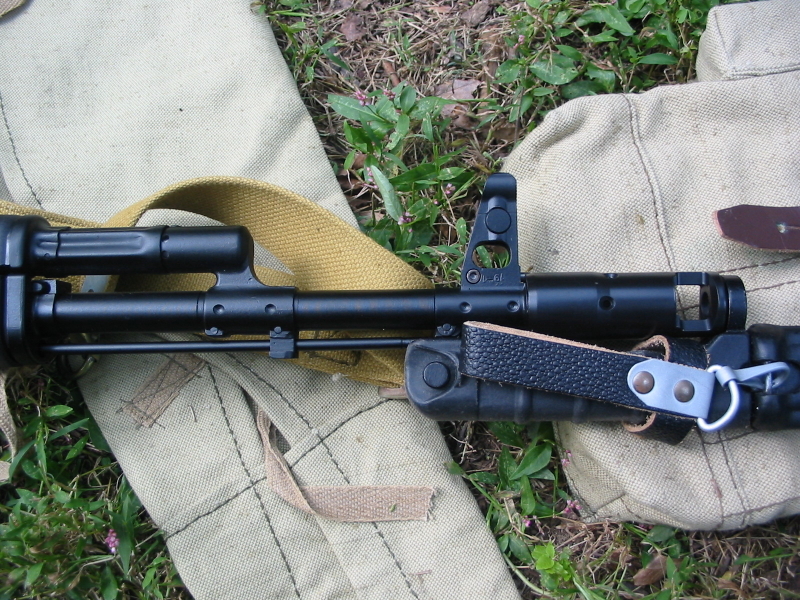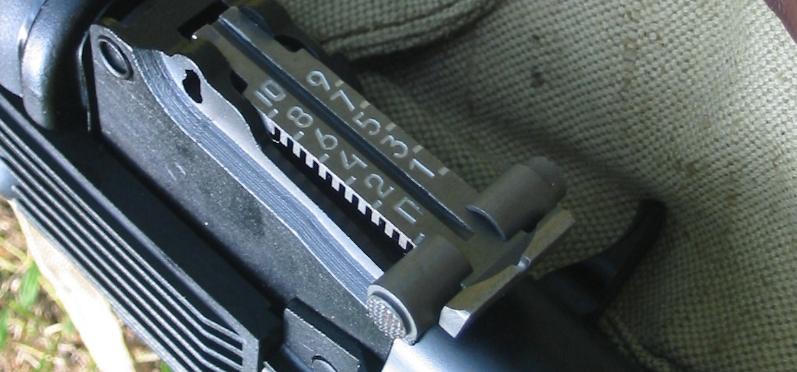 This rifle represents two years of research, parts searches, and time consuming labor. Not to mention several hundred dollars worth of investment. This clearly shows in the details in it's finish and accurate construction. I'm sure you will find it well worth the time you spend looking it over. I know that Aardvark is very happy to have it in his collection, and rightly so!
Thank you for visiting our site. I hope we can present more projects and exhibits as time allows. if you have any comments, or wish to point out mistakes in the text, please send me an e-mail. ---Tantal